High-Resolution, Compact Detector.
The HPX-DR 2530 PH Non-Glass Detector provides high-resolution imaging capability and a non-glass design for maximum durability against the rigors of NDT field work.
See more with the 98 μm resolution for optimal image defect visibility. Do more imaging in confined areas or between objects; the new HPX-DR 2530 fits in tight spaces with its compact size. And save more, our non-glass detector design virtually eliminates costly repairs for broken glass while increasing utilization, uptime and productivity.
Built for NDT
Tungsten shielding for higher cumulative dose while preserving image quality
Protective, weatherproof enclosure for use in harsh environments
Close-to-edge imaging maximizes surface area for image capture
Robust wireless connectivity for faster image transfer and analysis
Lithium-ion batteries with battery 'hot-swap' to keep the detector running during battery change
Resolution and Size
Improved defect detection with 98 μm resolution
Compact size (250 x 300mm) and thin profile (14.7mm) for positioning in tight spaces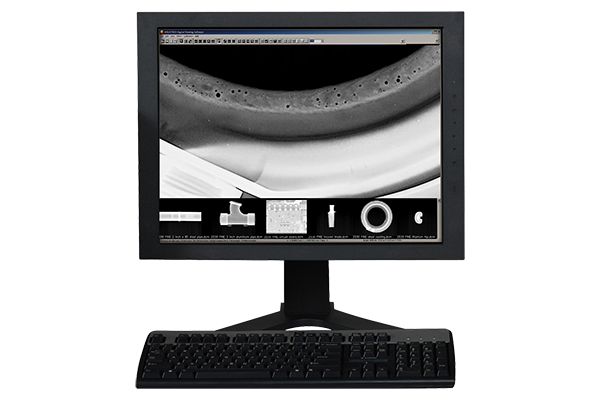 INDUSTREX Digital Viewing Software
INDUSTREX Digital Viewing Software incorporates image analysis tools, file sharing and storage management features. Our modular architecture is an all-in-one software suite that eliminates the need to purchase add-on modules for both CR and DR image acquisition.
Exposure Interface Box (EIB)
An INDUSTREX Digital System accessory for DR.
Provides a standalone battery powered Wi-Fi access point to HPX-DR Detectors.
Optionally provides a communications interface to support select Golden pulse generator models.
The pulse generator interface enables timing coordination of the HPX-DR Detector image capture with the Golden X-ray pulse generation.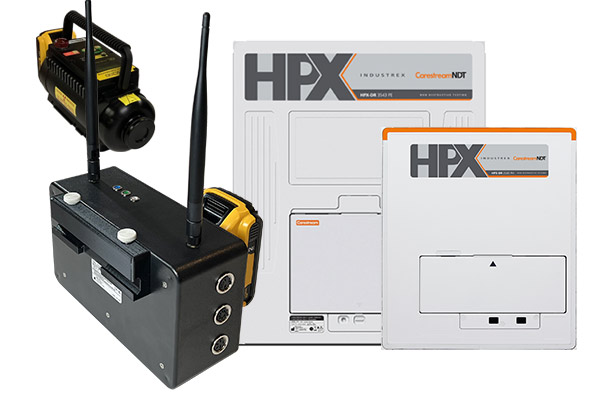 Performance Accessories
Optional protective cover for lab use increases detector load limit up to 340 kg. (750 lbs.) and mount kit with pipe cleats to reduce stress on the detector, especially for pipeline imaging.

Comes with a 2-year warranty and free loaner program!
We're so confident in the design and reliability of our new durable detector that we're offering a two-year warranty
If your detector ever does need service, we offer a loaner service (US and Canada only) to minimize downtime and avoid expense of purchasing a back-up detector