Sonocon BL belongs to the latest generation of portable UT instruments. Using  high-end electronics and having the richest set of modes and software features, it can solve any task that can be sold with portable UT.
SOLID ONE with a really BIG SCREEN
Sonocon BL has an ergonomic shock-resistant ABS plastic case with additional rubber pads and is designed for use in field as well as in industrial conditions. The Sonocon BL has a 7.2" huge high-resolution display. In combination with well-designed interface, this enables observing the A-Scan without strain even distantly.
Due to its case design and a 4-position folding handle, Sonocon BL can be comfortably placed on the table, pipe or another test object and even suspended. It also can be fixed on the inspector's chest for better mobility.
Powerful and Multifunctional
Sonocon BL is a digital UT tester combining 3 devices in 1:
Flaw detector,
A-Scan thickness gauge,
Corrosion monitor
This is realized with switchable software. In "UT" version Sonocon B grants all functions of a powerful ultrasonic flaw detection necessary for its setup, defect search and their advanced evaluation.
Usage in harsh environments
The instrument case carries an IP65 rating. The operation temperature ranges from –30°C to +50 °C (-22°F to 122°F). The flaw detector is resistant to ionizing radiation impact and is meant for operation under high humidity conditions.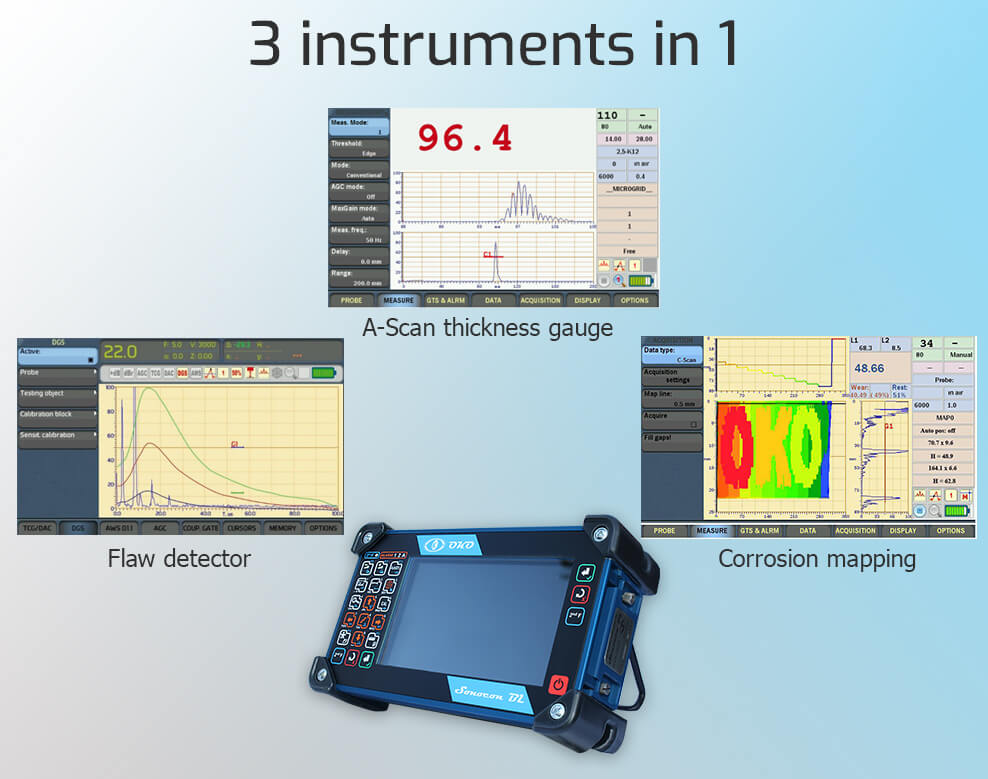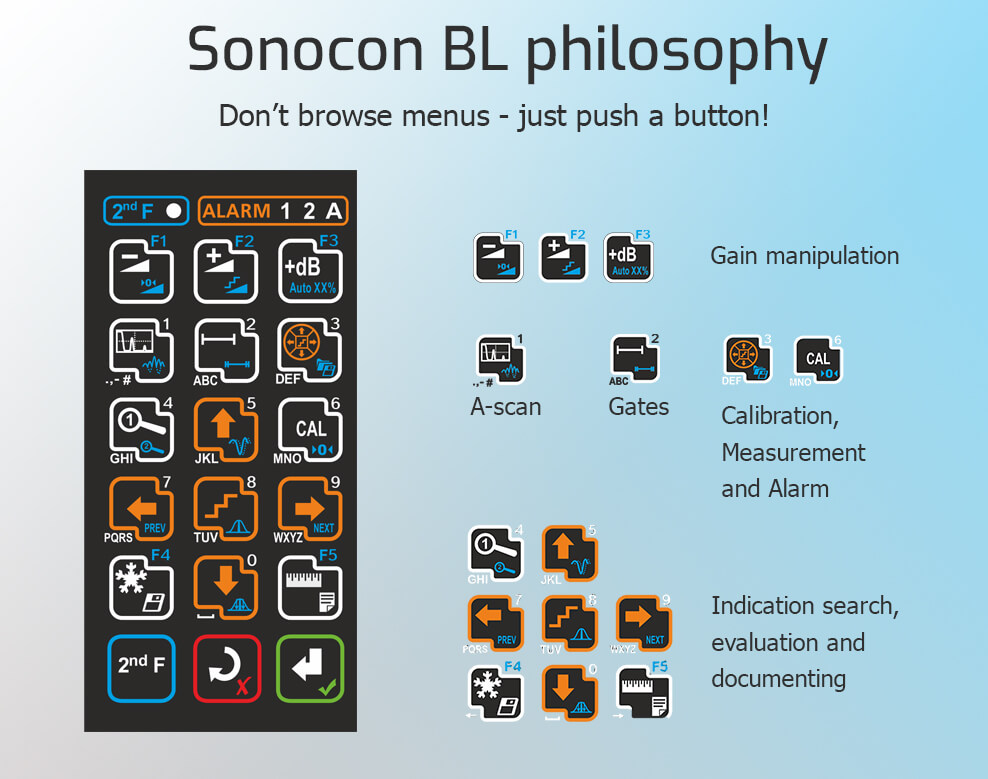 Sonocon BL is highly user friendly. Its interface philosophy can be stated as "Don't browse menus, just push a button!". All most frequently used functions are placed on its keyboard making them accessible in a single or a couple of button presses. This makes setup and evaluation procedures several times faster. A variety of built in auto calibration procedures allow performing fast and easy calibration with straight beam, angle beam and Rayleigh wave probes on standards or even a testing object.
To help new users to get used to its interface, Sonocon BL offers a number of options:
Context backlight: in modes where a group of buttons considered to be used all relevant buttons are highlighted.
Menu items hints: All not trivial menu items show descriptions when activated (changed).
Menu presets: User can choose one of 3 menu system presets:

Full: contains all menus in 2 pages granting access to all UT instrument functions;
Simple1 & Simple 2: contain in one page all basic functions, grouped in a couple of menus. Also gives possibility to add any 3 or 4 extra menus from a Full Menu list.
Sonocon BL General and "UT" version
Display
Size
Sonocon BL: 7.2"
Resolution
800×480
Connectors
Probe connectors
2 × BNC or
2 × LEMO-1 or
2 × LEMO-00
Analog output
Alarm
USB1
Type A
LAN
✔
Pulser
Types
Spike + Square Wave (SWP)
Voltage (SWP)
50 V, 100 V,
150 V, 200 V,
250 V, 300 V,
400 V
Energy (SWP)
20 ns to 1000ns with 10 ns step Manual & Auto modes
Voltage (Spike)
Low: 50 V,
High: 300 V
Damping
✔
PRF modes
Comfort, Low,
Medium, High,
Manual
PRF
from 15 to 6000 Hz
Phantoms control
3 modes
Receiver
Range (at steel longitudinal wave)
8 000 mm (314 in)
Gain
0 to110 dB,
with 0.1 dB step
Max signal input
20 V p-p
Bandwidth
0.2 MHz – 27 MHz
Filters
0.2-27 MHz,
0.2-10 MHz,
2.0-21.5 MHz,
8.0-26.5 MHz,
0.5-4 MHz,
0.2-1.2 MHz,
1.5-8.5 MHz,
5-15 MHz,
0.4 MHz,
0.5 MHz,
1 MHz,
1.25 MHz,
2 MHz,
2.25 MHz,
2.5 MHz,
3.5 MHz,
4 MHz,
5 MHz,
7.5 MHz,
10 MHz,
15 MHz,
20 MHz
Filters set choice
✔
Rectification
RF, FW, Pos. HW,
Neg. HW
TCG (TVG)
110 dB;
110 dB/μs slope
Signal Average
OFF / 2x / 4x / 8x / 16x / 32x / 64x
Reject (cutoff)
0-80% FSH
Measurement
Number of gates
2
Number of cursors
2
Modes
1, 2, C1, C2, 1-2, 1-C1, 1-C2, 2-C1, 2-C2, C1-C2
TOF Modes
Peak, Edge (Flank)
Amplitude measurement
up to 200% FSH
Units
mm / in / us
Output fields
5
Alarm
Number of gates
2
Number of levels
3
Flaws evaluation
AWS
✔
DGS (AVG)
✔
DAC
✔
DAC: Number of points
128
DAC codes
ASME & ASME III,
EN 1712, EN 1713,
EN1714, JIS Z3060,
GB11345, GB 4730
Custom DAC curves
up to 6
DAC 20-80
✔
DAC & TCG
✔
Memory
Setups
✔
Datasets (with A-Scans)
✔
Capacity
2 GB (up to 64 GB)
PC software
✔
Other Features
Coupling control
✔
AGC
independent for both gates
Quick calibration
✔
Quick estimate (Best signal catch)
✔
Auto XX % (50% or 80%)
✔
Reference gain
✔
Peak hold (collect, peak memory)
✔
Signals compare
✔
Smart zoom
✔
Choice of menu systems
Full
Simple 1
Simple 2
Keyboard backlight
✔
Smart (Context) keyboard backlight
✔
Number of keyboard shortcuts2
41
Physical
Dimensions
Sonocon BL: 10×6.1×3.1″(256×156×80 mm3)
Weight incl. battery
Sonocon BL: 5.3 lbs (2.4 kg)
Operating temp. range
-30°C to 50°C (-22°F to 122°F)
Dust & water protection
IP65
Battery life
8 h
Replaceable battery
✔
Sonocon BL "Thickness gauge +" version